* FREE * WEBINAR on How to Conquer Overwhelm
On Wed., June 26th at 8 pm EST, I will present a FREE webinar where you will:
Discover the high price you pay for staying stuck in overwhelm

Find out the traps leading to the state of overwhelm

Learn 4 vital strategies to use NOW to conquer overwhelm
REGISTER HERE
THRIVE – Next course start Monday, August 12

Are you worn out from a busy, but not fulfilling lifestyle?
Are you tired of trying so hard to be successful and happy?
Do you want more from life?


At one time I said YES to all of those questions!  
I know what it's like to NOT be excited about life and worn out from trying too hard to please myself and others!
I had settled for surviving instead of thriving and it doesn't have to be that way.
I've combined my experience and expert advice with professional training to create a powerful, results-driven SIX week coaching course where you don't just talk about thriving, you do it!
You will:
Commit to YOUR one MUST-DO goal that you need to thrive

Develop a customized plan designed to hit that target
De-clutter your heart and mind from YOUR stuff that SLOWS you down

Identify your unique qualities that you must express in order to thrive

Discover the best way to fully express yourself  
BONUS:  You will receive a FREE 30 minute 1:1 coaching session to get further clarity and action steps to fully execute your action plan
You will get those results through:
Weekly coaching at each meeting

Guided reading to speed up your results

Private online journaling WITH email coaching

Personalized THRIVE action plan developed on a private 30 min. coaching call
DATES:          Mondays, August 12, 19, 26, Sept. 9, 16, 23
TIME:              11:30 am – 1:00 pm
WHERE:        4247 Highborne Drive, Marietta  30066   (private residence)
REGISTER    HERE
FEE:  189.00
TAKE THE THRIVE ASSESSMENT HERE  BEFORE THE CLASS BEGINS.  I will automatically receive your results.  
Life Purpose and Calling Course  * Perfect for couples *

Are you ready for a job or career that is fulfilling and energizing and meets your financial goals?
Are you burned out or stressed by your current job?
Would you like to be engaged at your job by doing more meaningful work?
If you're tired of doing and thinking the same old things, operating on automatic – feeling little satisfaction and excitement  – it's time to discover your purpose and calling. 
You were created by God for a unique part only you can play. When you uncover your role, life gets better in so many ways. You experience:
More energy

Greater feelings of fulfillment

Increased resilience and tenacity

Deeper connection to your soul

Better time management

Improved clarity around competing priorities leading to better decisions (when to say YES and how to say NO)
DATE:            Thursdays, Sept. 5, 12, 19, 26
TIME:              7:00-8:30 pm
WHERE:        4247 Highborne Drive, Marietta 30066   (or location more central to the participants)
REGISTER:   http://careercalling.eventbrite.com

FEE:            99.00 per person
WHAT CLIENTS ARE SAYING:
I can say all I want about my course, but here's what clients say:
I really appreciate how Susan provided a safe environment to be vulnerable. Her God-centered perspective allowed us to draw upon God's heart for our lives. It helped me identify the obstacles that were in my life preventing me from moving forward in my field. I especially enjoyed discovering my strengths and how to implement them in my business. It gave me the courage to speak out my life mission. I will be forever grateful for Susan.
Kathy Cobb
Founder- Gabbin' With The Girls
Susan Brown, with Impact Coaching, has been leading a Spiritual Leadership and Life Purpose Coaching Course which has totally changed my life. Before the course I was burned out and unsure as to what to do next in my life. I was experiencing little fulfillment from my successes. Through Susan's coaching and self-awareness exercises, I discovered my calling which has given me tremendous joy, energy and direction. She helped me align my values, talents and life experiences to become a more purposeful leader. I can't wait to begin putting my plan into place to positively impact the lives of others!
Ellen Springer, MBA, CPA
Strategic Business Resources, Inc
Before participating in Susan Brown's Calling Discovery Course I was unclear and had little confidence about my purpose and calling. I was unsure as to my true direction which made me take hesitant steps in my life. With Susan's unique and uplifting coaching style, I now have a unique and empowering compass that guides my thoughts and decisions. Finally, the focus on "being vs. doing" was a leap for me and I am profoundly impacted by this revelation. I highly recommend Susan and this class for personal and professional growth!
Miss Phyllis Wallace
Founding Leader Blessings Unlimited
With Susan's expert guidance, wisdom and support over the last 6 months, I have learned to let go of my fear about an uncertain future, and to instead truly enjoy the journey, day by day. Susan possesses a combination of wisdom, kindness and authenticity that brings out the best in people. There is no question that she really cares, and wants the best outcome for her clients.
Our discussions have opened my eyes to possibilities that were previously unimaginable. I am more attuned to the valuable life lessons that were missed in the past, I have more clarity around my career choice, I have more confidence in my abilities, I have a renewed optimism, and I am at peace with issues and people which used to cause me anxiety. Susan has given 110% to me as a client, in that she has gone above and beyond to be available outside of our scheduled sessions to answer questions, provide guidance, provide job and other applicable resources, send impromptu emails with inspiring quotes, and provide book suggestions to accompany our Success journey. Susan is more than a Success Coach – she is a leader, a career resource, an expert discussion leader, and a professional who works with you on a deep personal level.
Ashley Bambarger
Entrepreneur
How to Unleash the Power of One Word
Words have a divine and creative force that DIRECT or lives and DETERMINE our DESTINY.
The WORDS we speak have a miraculous power that we barely grasp.
In this 90 minute workshop (or teleclass), you will:
Learn how to release empowering words over your self and others 
Discover your unique one word
Receive 3 simple strategies to unleash your word's power
Discover how not to sabotage your word's power
What people are saying:
It was when I took ownership of my ONE WORD (diamond) – that I was able to walk into that divine purpose. My life has forever changed; I was introduced to a business opportunity and in short within sixty-six days I became "Diamond" Executive within the company and 6 months later made the cover of Success Magazine.
I encourage those reading this to take this POWERFUL and LIFE-CHANGING One Word course with Susan. ~ Linda Barbour
I've been inspired and using my one word like crazy this week….an extraordinary week. meeting deadlines, on track to do exactly what I said I was going to do…which I was not doing before.
Just wanted to send you a quick note to tell you how your "great work in the world" is impacting not just me but everyone around me. You are amazing, and I am so grateful for you! ~ Ashley Bambarger
and more…….
One timid and self-conscious participant who would not join a fitness center or take fitness classes chose the word VALOR and soon after joined a gym and enrolled in a fitness competion! She also made a huge relocation calling her new home, VALOR Farm.

An entrepreneur and founder of a national organization who chose POSSIBILITIES has redefined her 10 year national organization. She now offers even more empowering ways to help women reach the highest levels of entrepreneurial success.
BREAK FREE FROM OVERWHELM
Are you overwhelmed with the pace of your life?
Are you second-guessing your decisions?
Do you feel like there's more to life than what you're experiencing?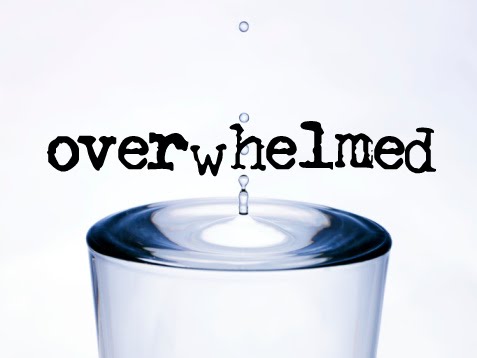 Just ONE "yes" means you're experiencing the NEGATIVE effects of overwhelm.Overwhelm, when left unchecked, ULTIMATELY hinders your effectiveness, productivity and love for your life.
Now for the good news: It's not too late to
break free from a draining lifestyle that leaves little time, energy and desire to love your life!
In the workshop, you'll discover:
Personal traits making you more prone to overwelm

Your reasons for choosing to stay overwhelmed

How to use three fail-proof strategies to break free from overwhelm
DO YOUR GREAT WORK ~ and love your life more!
Today's economy stretches you to capacity as you face the daily struggle to get it all done. However, it's often not satisfying enough to just get it "done." You want your work to matter.
You want more energy and enthusiasm for how you spend the majority of your life.
It's time to maximize doing the things that are fulfilling and productive as well as ELIMINATE time wasters and energy drainers.
This workshop is customized to meet the personal demands of each participant.
Each participant will:
Identify core values and competing priorities
Learn how to integrate PEAK MOMENTS into your work to increase work satisfaction
Discover the traits that make you at your "best"
Create a personalized action plan to do more good and great work
Learn how core strengths can be overextended and become a liability at work and at home
Who Should Attend: Executive Director, Managers, Department Supervisors and Staff
REQUIREMENT: Each participant must take the DISC assessment at 59.99